Factors influencing frontal cortex development and recovery from early frontal injury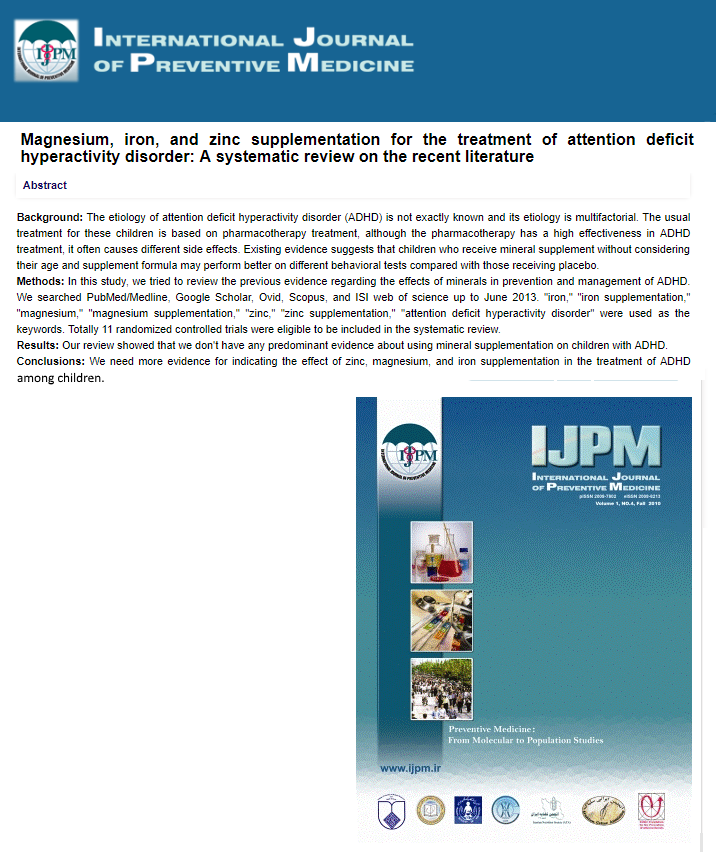 Abstract:
BACKGROUND: The etiology of attention deficit hyperactivity disorder (ADHD) is not exactly known and its etiology is multifactorial. The usual treatment for these children is based on pharmacotherapy treatment, although the pharmacotherapy has a high effectiveness in ADHD treatment, it often causes different side effects. Existing evidence suggests that children who receive mineral supplement without considering their age and supplement formula may perform better on different behavioral tests compared with those receiving placebo.
METHODS: In this study, we tried to review the previous evidence regarding the effects of minerals in prevention and management of ADHD. We searched PubMed/Medline, Google Scholar, Ovid, Scopus, and ISI web of science up to June 2013. "iron," "iron supplementation," "magnesium," "magnesium supplementation," "zinc," "zinc supplementation," "attention deficit hyperactivity disorder" were used as the keywords. Totally 11 randomized controlled trials were eligible to be included in the systematic review.
RESULTS: Our review showed that we don't have any predominant evidence about using mineral supplementation on children with ADHD.
CONCLUSIONS: We need more evidence for indicating the effect of zinc, magnesium, and iron supplementation in the treatment of ADHD among children.
A systematic review on the literature

Hariri M, Azadbakht L:

Int J Prev Med 6:83, 2015 26445630