In 2017, the American Psychiatric Association published a comprehensive textbook designed to be used as a handbook and reference guide for psychiatrists worldwide. Entitled Complementary and Integrative Treatments in Psychiatric Practice, the text contains cumulative resources highlighting research on integrative therapies with a focus on psychiatry.  For many years, accepted first-line psychiatric treatments have been limited to psychotropic medications.  Now, after thousands of studies on alternative treatments have been published, the American Psychiatric Association is beginning to accept the ideology that treating the "root cause" of mental illness is essential to long-term patient recovery.  In fact, there is an entire chapter dedicated to using broad-spectrum micronutrients in psychiatric practice.
What's more, the book Complementary and Integrative Treatments in Psychiatric Practice has now been awarded the Gold Nautilus Book Award for 2017 in the category of Psychology.  For over 20 years, the Nautilus book award program has continued to gain prestige with authors and publishers around the world as it "seeks, honors, celebrates and promotes print books that inspire and connect our lives as individuals, communities, and global citizens."
The book, complete with plenty of clinical references is written in such a way that makes it easy for patients and clinicians alike to read and understand.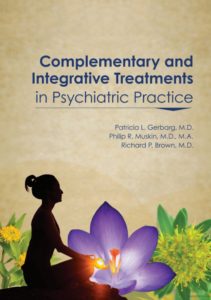 It covers a wide range of integrative approaches to treating psychiatric disorders, specifically recognizes micronutrients as a "physiologically sensible approach" to treating mood disorders, and references over 100 independent medical journal publications to support that statement.
In Chapter 6, which features micronutrient therapy, the authors first examine the evidence with respect to "single nutrients," or single element therapy. This approach uses one nutrient at a time to treat mood dysregulation and mental health, such as adding extra Vitamin D to the diet for depression.
"Adjusting a single micronutrient may not have much impact because 1) micronutrients typically act together…2) many enzymes have cofactors, so adjusting one may have little effect; and 3) treating with a single micronutrient can be disruptive by creating imbalances…"
According to the authors, the most desirable broad-spectrum micronutrients typically consist of:
At least 10, preferably more (25 or so), minerals and vitamins
Individual ingredient doses exceeding the RDA
Balanced ratios
High bio-availability
High quality control
Absence of botanicals that interfere with drugs
Availability of peer-review studies on safety and efficacy using comparable formulations
The authors also note that "A broader range of micronutrients is more likely to provide more pervasive physiological changes, including more wide-ranging enhancements of central nervous system (CNS) activity.  Broad-spectrum mineral-vitamin combinations have been evaluated for treating violent behavior and conduct problems, ADHD, mood disorders, anxiety disorders, obsessive-compulsive disorder, autism spectrum disorder , and substance use disorders.  Broad-spectrum interventions have also been examined in nonclinical ("normal") populations for improving mood, cognition, sense of well-being, and stress tolerance."
Source: Complementary and Integrative Treatments in Psychiatric Practice, edited by Patricia L. Gerbarg, Philip R. Muskin, Richard P. Brown