Database analysis of adults with bipolar disorder consuming a micronutrient formula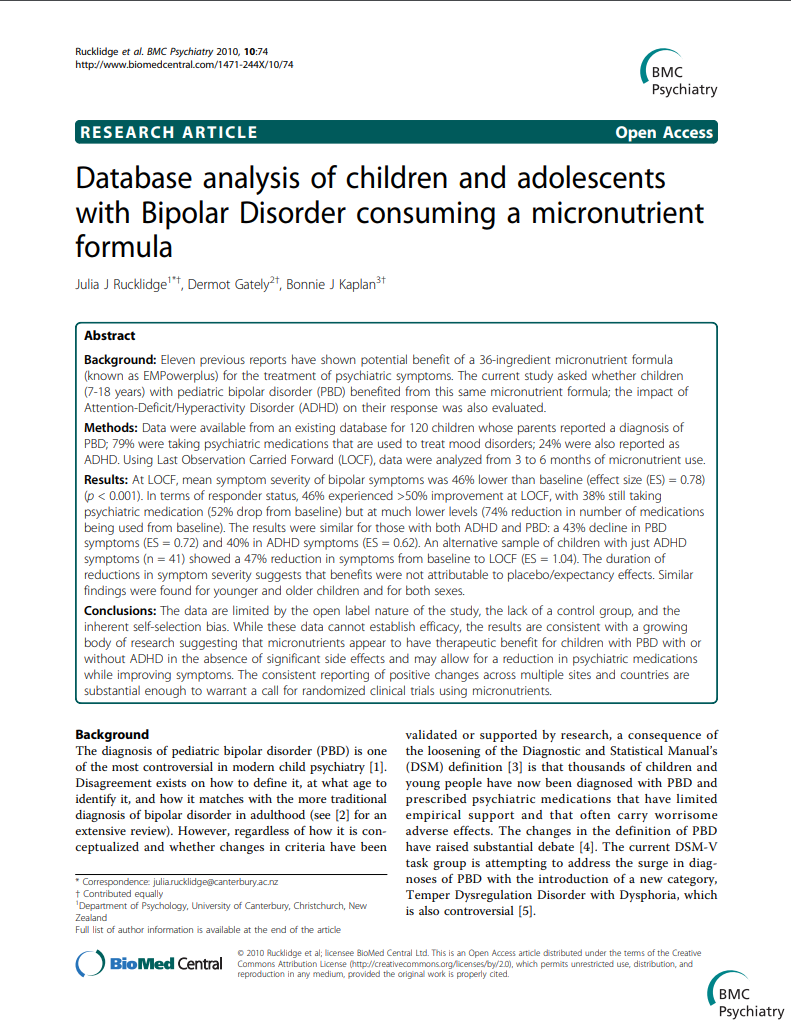 Abstract:
BACKGROUND: Eleven previous reports have shown potential benefit of a 36-ingredient micronutrient formula (known as EMPowerplus) for the treatment of psychiatric symptoms. The current study asked whether children (7-18 years) with pediatric bipolar disorder (PBD) benefited from this same micronutrient formula; the impact of Attention-Deficit/Hyperactivity Disorder (ADHD) on their response was also evaluated.
METHODS: Data were available from an existing database for 120 children whose parents reported a diagnosis of PBD; 79% were taking psychiatric medications that are used to treat mood disorders; 24% were also reported as ADHD. Using Last Observation Carried Forward (LOCF), data were analyzed from 3 to 6 months of micronutrient use. Results: At LOCF, mean symptom severity of bipolar symptoms was 46% lower than baseline (effect size (ES) = 0.78) (p < 0.001). In terms of responder status, 46% experienced >50% improvement at LOCF, with 38% still taking psychiatric medication (52% drop from baseline) but at much lower levels (74% reduction in number of medications being used from baseline). The results were similar for those with both ADHD and PBD: a 43% decline in PBD symptoms (ES = 0.72) and 40% in ADHD symptoms (ES = 0.62). An alternative sample of children with just ADHD symptoms (n = 41) showed a 47% reduction in symptoms from baseline to LOCF (ES = 1.04). The duration of reductions in symptom severity suggests that benefits were not attributable to placebo/expectancy effects. Similar findings were found for younger and older children and for both sexes.
CONCLUSIONS: The data are limited by the open-label nature of the study, the lack of a control group, and the inherent self-selection bias. While these data cannot establish efficacy, the results are consistent with a growing body of research suggesting that micronutrients appear to have therapeutic benefit for children with PBD with or without ADHD in the absence of significant side effects and may allow for a reduction in psychiatric medications while improving symptoms. The consistent reporting of positive changes across multiple sites and countries are substantial enough to warrant a call for randomized clinical trials using micronutrients.
Gately D, Kaplan BJ, Rucklidge JJ:

BMC Psychiatry. 2010 Sep 28;10:74